SmartLick are thrilled to introduce Lauren Ransom to their stable of Ambassadors which already include Freya Gaitskell and Charlotte Martin. Lauren has had a huge amount of success in her chosen discipline of dressage already and represents the South of the UK for SmartLick as she is based in Kent, the garden of England. Like many of us she is looking forward to the relaxing of restrictions in 2021 and hoping that as we follow the roadmap out of lockdown, she can focus on her aims for the coming year. Lauren has found SmartLick to be an essential part of her horses' diet whether they are youngstock, competition or retired. Find out more about Lauren below:
Hi, I'm Lauren, I'm a 20-year-old dressage rider based in Kent. I first started riding when I was 11, on my 13.1hh pony, Classic.
Classic came to me on loan and was my first much loved pony. She taught me how to ride the basics, she was 16 years old then and she's a Welsh X Arab mare.
Classic also loved to jump and in her previous homes, was predominantly a showing pony. I still have Classic, she turns 26 this year and has been semi-retired for the last five years.
Whilst Classic was teaching me the basics, we bought Bella as a 13-month-old filly and when the time came to back Bella, I was 13 and I backed and trained her myself.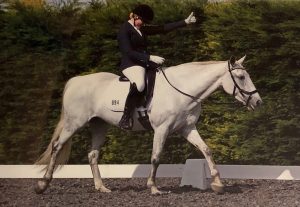 My aim with Bella was that she would be my show jumping pony, but as we focused on the flatwork, which is so important when training, my love for dressage followed. Although we always joked that Bella is a Farmyard Pony, as we keep our horses on a working farm, my ultimate ambition has always been to compete Bella at Medium level dressage.
Bella is now 11 and we compete at Novice and Elementary level dressage Nationally and are aiming for our first Internationals this year alongside some of our favourites, such as Sheepgate Under 25's and BD Inter Regionals with Team Southern!
Bella and I have enjoyed sharing an educational journey together. As part of this journey, we have enjoyed being part of our local Pony Club and British Riding Clubs as well as other local riding clubs. We have been involved in competitions across the board, both as part of a team and individual classes, we have even included a little bit of jumping and cross country!
Four years ago, we join BD Quest Club with a Club membership and with our teammates managed to qualify for the Nationals! We were placed individually, and our team placed 5th overall two years running. This led to me becoming a part of BD Southern and in 2019, we achieved my dream of riding at Keysoe at the Inter Regional Championships! I really didn't think that I would ever want more but it has spurred me on and now my next goal is to ride at the Home Internationals. Unfortunately, as result of Covid-19 all of the competitions were cancelled last year, so we had a year of fun, filled with beach rides, hacking and camps.
I'm also currently training as a British Dressage judge which is a real challenge.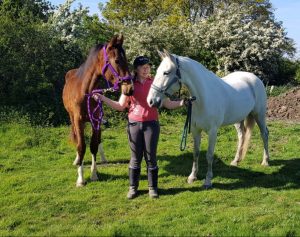 We have been using the time over lockdown as best as we can, with a mix of hacking and self-directed training, as we haven't been able to get out for lessons with travel restrictions. When restrictions have allowed, we have enjoyed training with my instructors, Leanne Wall and Mary Coleman.
So, my aims for 2021 (if restrictions allow)…
I would really love to revisit previous achievements such as,
The Inter Regionals
Sheepgate Under 25's
BD Camps
Beach rides
But I would also like to take part in the Petplan Music Area Festivals however my ultimate goal for this year, if it takes place due to restrictions, is to take my Farmyard Pony to the Home Internationals and maybe a Medium test by the end of the year.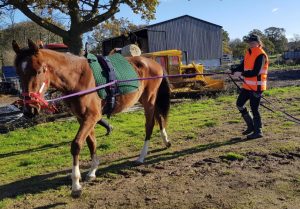 I also own my bay warmblood, Oakleigh, who is almost three and I am very much looking forward to backing and training with him in a year-or-so's time.
We love using SmartLick as it provides a comprehensive supplement for all of my horses requirements, whether they are Youngstock, Competition or Retired.
It has proven to be a hit and my horses love the vanilla flavour! I have found it to be an essential part of their balanced diet.