SmartLick are delighted to launch their second Ambassador, Charlotte Martin, a multi-talented dressage and event rider from North Yorkshire, who also is involved in stud work and ROR.  Charlotte Martin has worked hard and has a huge range of experience already at 24 years old.  She is looking forward to 2021 like many of us, and hoping that as restrictions ease, she can get her team of horses out and about showing off their potential.  SmartLick is proving to be an asset to her management with it working on multiple levels as a vitamin and mineral feed block as well as a boredom breaker while horses are inside due to limited turnout. Find out more about Charlotte below…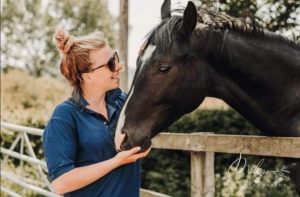 I'm Charlotte, a 24-year-old dressage and event rider from North Yorkshire. In the last 3 years I have built my own yard up from 3 horses to now 23, ranging from youngstock, competition horses, stallions, schooling liveries, backing and breaking liveries and rehab liveries. I began when I was 12/13 working on the weekend for an event rider and showing yard, mucking out, going to shows and holding horses, from this I progressed to working as a travelling groom, then head groom then finally a yard rider for an international event rider, then moved to an international dressage yard. From there I took over running a livery yard 3yrs ago and have progressed it ever since.
We have recently began developing plans to build our dream of our own Stud – Albarosa Stud. Our first mare will be inseminated this year and we cannot wait to see what she produces.
My big break actually came when I bought my top horse, Epache 5 years ago, as much as he was a just broken 7yr old, his temperament and talent have helped me to acquire results, which has helped me gain some good competition scores, which in turn has enabled me to take on some other talented horses to compete for owners.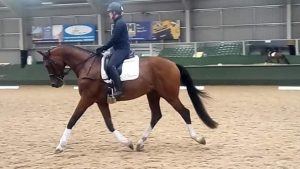 In 2018 I was selected onto the BD U25 Foundation Academy and again was reselected onto it in 2019.
I am also a recognised and registered re-trainer of Racehorses through ROR, and work very closely with some of the local trainers to help find their horses a life and home out of racing. One of our own stallions is a Retrained Racehorse and we can't wait to see what results he brings in in 2022, when he finally gets out competing. His temperament, paces and conformation are second to none!
Competition wise;
I am trained up to Advanced level dressage, competing successfully at Medium level.
In 2019 I had the following results:
Novice Silver FSM Winter regional Champion
9th in the Prelim Silver Winter regionals
13th in Novice Silver winter regionals.
2nd Elementary Bronze area festival
3rd Medium Bronze Area Festival
8th Medium Bronze National Champion
10th Elementary Bronze Area Finals.
This last year, like a lot of people, I haven't been able to get out competing much, although I did manage to get one of our younger event horses out. She completed 4 BE90s, finishing the season on a 2nd at Oasby BE and she is now ready to step up to BE100 to start next season. We also managed to get this mare out to compete in her first Medium level dressage tests in December. She was well placed in the first test and won the second test overall! This gained her qualification to the Winter Area festivals – we are aiming for Vale View and have our entries in, although this has been postponed due to Covid-19, like many things.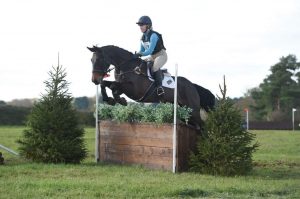 So far, I love the SmartLick product. I've always been a big fan of Horslyx for the younger horses, or the ones out competing. I now use SmartLick, it's great having a treat that all the horses can use, from the competition horses to the youngstock, older horses and those that are at risk for lami etc.
They are great boredom breakers as well, especially at the moment with turnout being so limited due to the weather and mud!
I have a couple that we were worried may have had ulcers, they have recently come off the track, so were prime candidates for ulcers. Since we have started with The SmartLick, they have improved in condition and are a lot happier, which is always an advantage!
I love being part of the SmartLick team, it gives me constant access to advice, a great support team. And means I'm in prime position to promote a brand I feel strongly about! We now wouldn't be without this product. I can't wait to build an ever-greater relationship with the brand throughout the year and see what results we can all produce.