I'm very excited to be joining Team Horslyx and becoming an ambassador for their new SmartLick.
I'm a junior event rider based in Cumbria. This year I have been lucky enough to campaign two horses: both ending the season at novice level.  Last season I was lucky enough to represent the Northern u18 Team at the National u18 2* Championships held at Frickley Park on my mum's horse Equador, later on that season I was selected for the GB junior development squad and travelled over to Millstreet, Ireland.
Although this season has been slightly short, I have still achieved 8 double clears and taken my pony who I have produced the last couple of years from BE100 to Novice in under 2 months.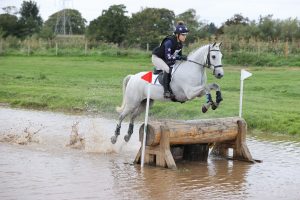 Having finished season on a high with Crossgales into the Blu going double clear in his first PON, I am extremely excited for next year with hopes of getting him to 2* and Equador successful at Intermediate level.
I have been trialling the SmartLick for just over a month now on three of my horses and all three seem to love it! The idea of the SmartLick is to act like a balancer; it contains essential vitamins and minerals to help maintain ideal condition on each horse and pony. I'm extremely impressed with the benefits of the vanilla flavoured lick; their coats are gleaming, feet are in good condition and the most importantly they are extremely happy. As winter is dawning, I'm very grateful to have the SmartLick
as part of their daily diet. I really believe it will play a big part in supporting their condition throughout the winter, something which like many others, I find extremely hard to maintain through the cold months.
So a little bit of history on me, I have been around horses for as long as I can remember. Most people remember me as sat in my buggy parked outside the arena watching my mum, wondering when it would be my turn.  Ever since I was tiny all I ever dreamed of was to be like my mum.
At age 4 I began riding properly on the lead rein but that didn't last very long as mum got sick of leading me around and by 5 I joined The Cumberland Farmers Hunt North Pony Club, which I am still a member of now.  I was lucky enough to have many ponies kindly given to me to learn to ride on, with the help of mum.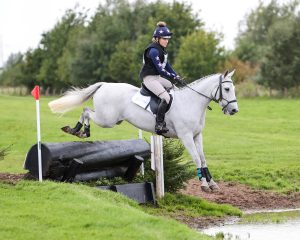 I have so many great memories from Pony Club, not just with ponies but making friends for life. Pony Club camp in the summer was always a big highlight of the calendar!
For years I followed my mum around horse trials, watching and desperate to have a go myself.
At age 12 I was finally old enough to British Event. I was very kindly given the ride on an extremely special pony and probably my pony of a lifetime, Orkney's Classic. He fulfilled many dreams in just a year, with our most memorable achievements including finishing 2nd in the Eventing at the Pony Club National championships and ending my first season BE100 level as well as becoming Cumbria Junior Rider of the Year.
I am forever grateful to Orkney's Classic and his incredibly kind owners for helping me to start my eventing career so successfully and given me the confidence to ride and produce other horses to event.